Non-Metallic Minerals – Overview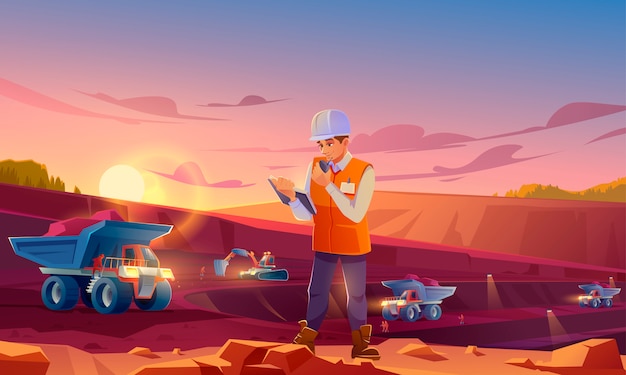 Above other geological building materials, non-metallic minerals materials are the product that is collected in the biggest volume from the Earth's bosom today. They are the second most important type of mineral wealth after energy raw resources.
The bulk of non-metallic mineral raw resources have huge reserves, and some (for example, construction stones) do not require quantitative estimation because they are abundant in the Earth's crust. This indicates that the majority of non-metallic raw materials have a bright future ahead of them, and the trend to employ them as rare metal substitutes are growing. So, let's learn more about it. 
What Are Non-Metallic Minerals?
Non-metallic minerals, as the name implies, are minerals that do not include metals, such as limestone, mica, coal, gypsum, dolomite, phosphate, salt, manganese, granite, and so on. They are utilized in a range of industries to make a variety of products, such as mica in the electrical business and limestone in the cement industry. Non-metallic minerals are also utilized in the manufacture of fertilizers and refractories. They are most commonly found in sedimentary rocks, which are generated by the aggregation of a variety of components such as minerals, biological remains, rock particles, and so on.
History of Non–Metallic Minerals Raw Materials
Man incorporated selected stones into his houses and fashioned cultural monuments and works of art from nicely shaped stones and costly materials since prehistoric times. The ICrapina Prehistoric Man produced tools out of a variety of silicate rocks and tuffs about 30 thousand years ago, and later employed coarse-grained aggregates of quartz, opal, and thick chert for crafting. Egypt's beautiful Pyramids, which are approximately 3,500 years old and were constructed of compact limestones and Nubian sandstones, with obelisks and columns carved in granular and porphyrin granites, sphinxes of basalt and gabbros, and other materials. Later on, the prehistoric inhabitants of Lepenski Vir learned to choose spherical chunks of solid rock and the toughest minerals for their building materials, tools, jewelry, and weaponry. Not only that, but for fences, plates, tables, shrines, and graves, he employed appealing red and reddish-brown porphyrite marble, crystalline limestone, and sandstone. 
Differences Between Metallic and Non-Metallic Minerals
Metallic minerals –
Minerals that contain one or more metallic elements are known as metallic minerals. They are usually firm and have a lustrous finish. Igneous and metamorphic rocks are the most common places to find them. They're ductile and malleable, with the ability to be pounded into sheets and stretched into wires. Metallic minerals are excellent heat and electricity conductors. They can be melted down to make new items. These minerals are not as common as non-metallic minerals. Examples: Tin, Copper, Manganese, Iron, Gold, and more.
Non-metallic minerals –
Minerals that do not contain metallic elements are known as non-metallic minerals. They are not as hard as metallic minerals and do not have a lustrous appearance. Non-metallic minerals are present mostly in sedimentary rocks. As they aren't ductile or malleable, they shatter when struck hard. They are poor heat and electrical conductors. On melting, they do create new products. They outnumber metallic minerals in terms of abundance. Cement, ceramics, glass, and lime are examples of non-metallic mineral products. The transformation of naturally occurring minerals such as limestone, silica, and clays through an energy-intensive process characterizes these manufacturing sectors. Bricks and tiles, as well as glass and dinnerware, are among the end products.
Two Types of Non-Metallic Minerals Raw Materials
 1. Primary Raw Materials –
The tremendous diversity of rocks and minerals characterizes non-metallic natural raw resources. Limestone, sand, crushed rock, gravel, block-making rock, clays, phosphate rocks, potassium salts, sulfur, and gypsum are among the primary raw materials. Apart from the most prominent ones, there is a slew of other commercially valuable non-metallic materials.
2. Second-Rank Raw Materials –
Asphalt, abrasives, asbestos, bentonite, barite, bromine, borates, diamonds, feldspar, diatomite, fluorite, garnets, magnesite, graphite, mica, perlite, olivine, pumice, sodium, quartz, vermiculite, talc, and zeolites are among the second-rank raw materials.
Importance of Non-Metallic Minerals Products 
Economy – The production of non-metallic mineral products has worth billions. 
Wide range of products – Output includes everything from building materials like cement, bricks, and tiles, to sanitary ware and glass, as well as consumer goods like tableware and decorative items. These are high in demand. 
Employment – The mining industry employed more than 1 million people.
Manufacturers — It includes large corporations in the cement, flat glass, and bricks industries as well as small and medium-sized businesses in the ceramics industry and parts of the lime industry.
Different Types of Mining Equipments
Excavators –
Backhoe loaders

Loaders

Skid steer loaders

Dumpers

Bulldozers

Motor graders

Road rollers

Vibratory plates

Pavers

Cold planers

Road work equipment
Mixer trucks –
Other concrete equipment

Formwork

Formwork equipment

Scaffolding

Scaffolding equipment
Drilling rigs –
Core bits

Drilling equipment

Pile drivers

Piling equipment

Trenchers

Jumbos drilling rigs

Roadheaders

Tunnel boring machines and equipment

Demolition shears

Hydraulic crushers

Demolition equipment
Dump trucks –
Crushers

Other open-pit mining and quarrying equipment

Underground mining equipment
Forestry harvesters –
Skidders

Forestry forwarders

Log loaders

Other forestry equipment
Other construction equipment –
Trailers

Utility vehicles

Tires

Tracks

Construction equipment buckets, Shears, Grabs